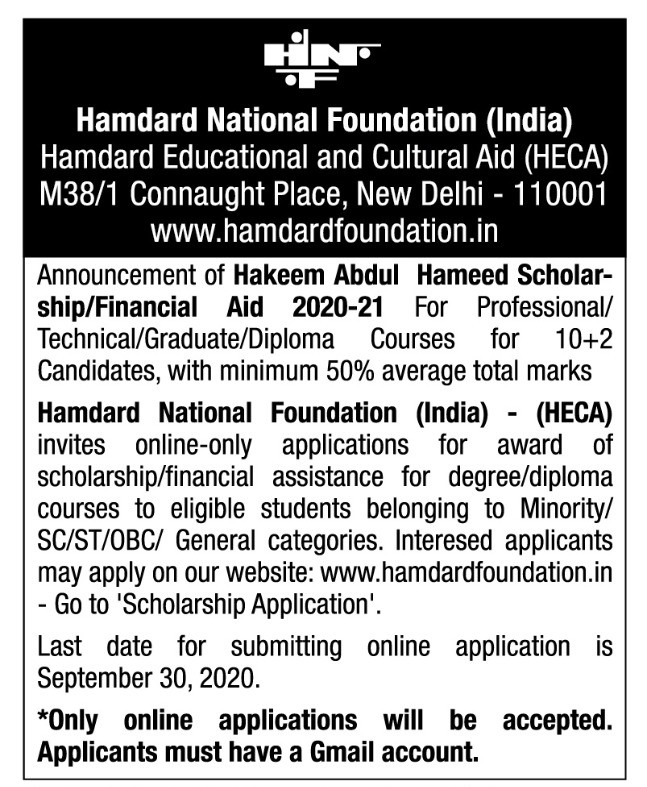 Hakim Abdul Hameed Scholarship to the students for the year 2020-21
"Hakim Abdul Hameed Scholarship" to the students for the year 2020-21
?️ LAST DATE OF APPLICATION : 30.09.2020
?????? ???? ??? ????????? ???????????? ????????? ?????? ??????? ??? ????
☑️ Applicant must belong to SC/ST/OBC/Minority/General communities
☑️ Must have obtained a minimum 50% aggregate marks in Senior Secondary / 10+2 / Intermediate
☑️ The applicant must be admitted in the First Year of any professional/technical course in any Government recognized institution
⭕ Applicant age should not be above 25 years as on 01/07/2020
⭕ The Applicants parent's income must not exceed Rs. 3 lacs per annum from all sources (Income proof is required)
⭕ Good moral character certificate issued from last attended institution/school
⭕ The applicant should not be getting any other scholarship/freeship / financial assistance etc. from other resources
⭕ Applicant should not be indulged in any unlawful misconduct or facing any criminal charges
⭕ The competent authority of HNF (HECA) may grant financial assistance/scholarship to the needy person in exceptional cases as it may deem fit
⭕ The award of financial assistance will be made on the basis of the eligibility criteria of the candidate on the recommendation of the duly constituted committee.
⭕ The committee has the right to accept/reject any form of any candidate on exceptional cases without assigning any reason
⭕ Any kind of unsolicited approach/source for the award of scholarship/financial assistance will not be entertained and will result in cancellation of the form
⭕ The amount of Scholarship/Financial assistance will directly be credited into the account of the applicant
?????? ?????????? ?? ?????, ?????? ?????? ???? ??? ????
Scanned copy of ⤵️
? Applicant's recent passport size color photograph
? Applicant's signature
? Applicant's Father/Mother / Guardian signature
? Fee Receipt paid for the current year / Semester of the present study
? Mark-sheets of Xth and XIIth
? Proof of income (must be issued from a concerned State / Central Government agency)
? Bonafide certificate issued from the current institution of studyogramme Fee.
???????
WEFI Bulletin Reference : WBEN08080920
WEFI WhatsApp Group : http://wefionline.in/wb/